Return to the Familiar….
I've been missing from here for a couple months. I hope some of you noticed, but I'll forgive you if you haven't! The beginning of a new year is a funny time of year for me; part catch up and part forward planning. I find I'm not "in the moment" much. Now though, as spring arrives here in Southern California, I'm beginning to find myself reaching out more.
Return to the familiar. I find m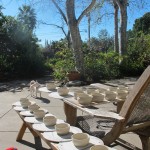 yself, once again, the poster child for this, my favorite concept I learned in a  beginning sociology class I took many years ago. Return to the familiar is why it's so difficult to break the cycle of violence, or welfare, or any other generational condition you're addressing. We all go back to what is familiar. For me it's production work. Not in a factory sort of way, although sometimes my life feels like that Lucy show where she's working in a chocolate factory! I tend to be comfortable in a "if I can make one, I can make many" sort of way. If I make soup, I make enough for a soup kitchen to feed an entire town. When I was actively making my Gourdfolk, I made and shipped them all over the country.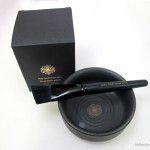 A couple of years ago I was fortunate to be asked by a really lovely woman, May Lindstrom, if I'd be interested in making bowls for her line of skin care potions, May Lindstrom Skin. At the time she was just developing her line, and I thought it sounded interesting. Little did I know that she would become a phenom in the handcrafted, organic, luxury world of skin care. Words fail to adequately convey the refined yet earthy qualities of her line. May has a sense of responsibility about her creations. She sources only the highest quality ingredients; organic when possible,  http://maylindstrom.com/ingredients.php. The bottles and jars she uses are dark violet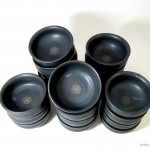 miron glass to protect the volatile oils and potent powders she crafts her products from. I'm very pleased that May enlisted me to make the bowls for her Problem Solver Correcting Masque. I throw each one on my vintage wheel, glaze them with my gunmetal black, which of course is food safe, and finish them in a third firing with May's beautiful dandelion logo which we had made in 24 carat gold. They're quite yummy.