Good morning. So… our Lab Penny had to have surgery on Wednesday. She had several tumors take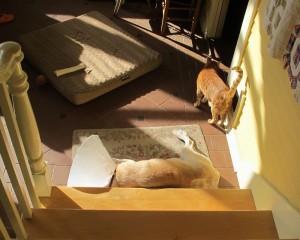 n off, three on her poor little ear another on her back. She's doing fine…my husband Steve and I? …ehhh.
Ever see a hyperactive American Field Lab with a cone on her head try to navigate a ceramic studio? How about a drugged lab with a cone on her head chase raccoons with a yapping little mutt heading the charge – at 3 in the morning? Or maybe a lab with a cone on her head being persistent enough that you finally throw the ball to her? It's a lot like playing a carnival game…ring toss anyone?
Do I sound tired? Yep, a little bit. But don't worry. Penny is resting comfortably!
Update: Penny's tumors were all benign! Now just have to deal with the cone head for the next two weeks!