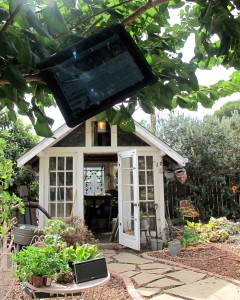 My brother in law gave me an i Pad a while ago. A couple weeks ago he introduced me to Pandora radio. Last week he sent me a wireless Bose speaker with Bluetooth that I can play Pandora Radio on my i Pad anywhere I want. Today I gardened listening to Alison Krause "radio".
Lessons learned today:
1. WiFi only reaches to the goldkist apricot tree
.
2. Gardening is even better with music
.
3. Goldkist apricot trees can support an i Pad
.
4. I have an awesome brother in law.