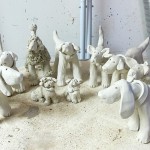 So, What are people giving this year to those on their list that have everything? Hand made, one of a kind, personalized, custom hand sculpted ceramic dogs, of course.
I've been busy in the garagio sculpting dogs for folks to give as gifts to the hard to buy for pet-loving people on their Holiday gift giving list. I've been sculpting chihuahuas, labs, Bracco Italianos, Nova Scotia Duck Tolling retrievers, Shit tsus, Portuguese Water Dogs, and mutts of course.
I love hearing stories about the different dogs I'm asked to sculpt. Although all the stories are different, there is always a common thread. Love. Some of these dogs were purchased or rescued from places far away, some show up uninvited and become a part of a family. Some live on farms, some in suburban yards, and one even lives on a yacht. Some are puppies and have their whole lives ahead of them and sadly, some have passed on. But they are all truly loved.
Thank you for asking me to do this. It really is my pleasure.
https://www.etsy.com/listing/62575022/ceramic-dog-sculpture-custom-orders